Create Inclusive Healing Spaces with Us
We are always eager to meet highly skilled and equity minded clinicians, so come join our team!
At Kaafi Counseling, LLC, we are committed to creating inclusive healing spaces and accessible mental health services for ALL. Due to recent expansion, we are looking for  skilled therapists to join our group practice. This is an independent contractor and/or W2 position offering a flexible schedule and other benefits.
This is suitable for the therapist that is interested in providing psychotherapy and utilizing their unique strengths and therapeutic skill and training. We offer a HIPAA compliant telehealth platform, competitive pay rates and an opportunity to join private group practice outside of social service agencies and community mental health clinics.
Qualifications and Skills:
Active license in Florida as a mental health clinician (example, LMHC, LCSW, PsyD, LMFT)
Be willing to work at least 20 hrs/week
Be able to work well independently and autonomously
Strong clinical skills and commitment to providing quality mental health services
Demonstrated experience in serving communities of color, LGBTQIA/queer community, and/or other marginalized communities
Demonstrated commitment towards professional growth in areas of social justice, diversity, oppression, or in working with diverse, underserved communities (e.g.,workshops, CEUs, writing)
Preferred qualifications:
Already paneled with insurance companies
Experience in providing child/adolescent therapy
Benefits:
Compensation is competitive and will be provided based on hours worked
As a W-2 employee, social security and medicare taxes (ie, FICA) will be paid
Clinical supervision with a Qualified Supervisor is available for those seeking clinical hours for licensure
Small stipend for continuing education and professional development
Fully furnished office space with waiting room
HIPAA compliant practice management tools
Billing services
Flexible hours
Professional marketing and web presence
Paid administrative time commensurate to clinical hours worked
Credentialing with major insurance companies (Cigna, Blue Cross Blue Shield, United Healthcare, Aetna and more)
This is a great opportunity for the right person who has an entrepreneurship spirit, ambition and values flexibility to work independently in private practice.
Please email your CV/Resume and three professional references to info@kaaficounseling.com
You may also complete your application by clicking on the link below: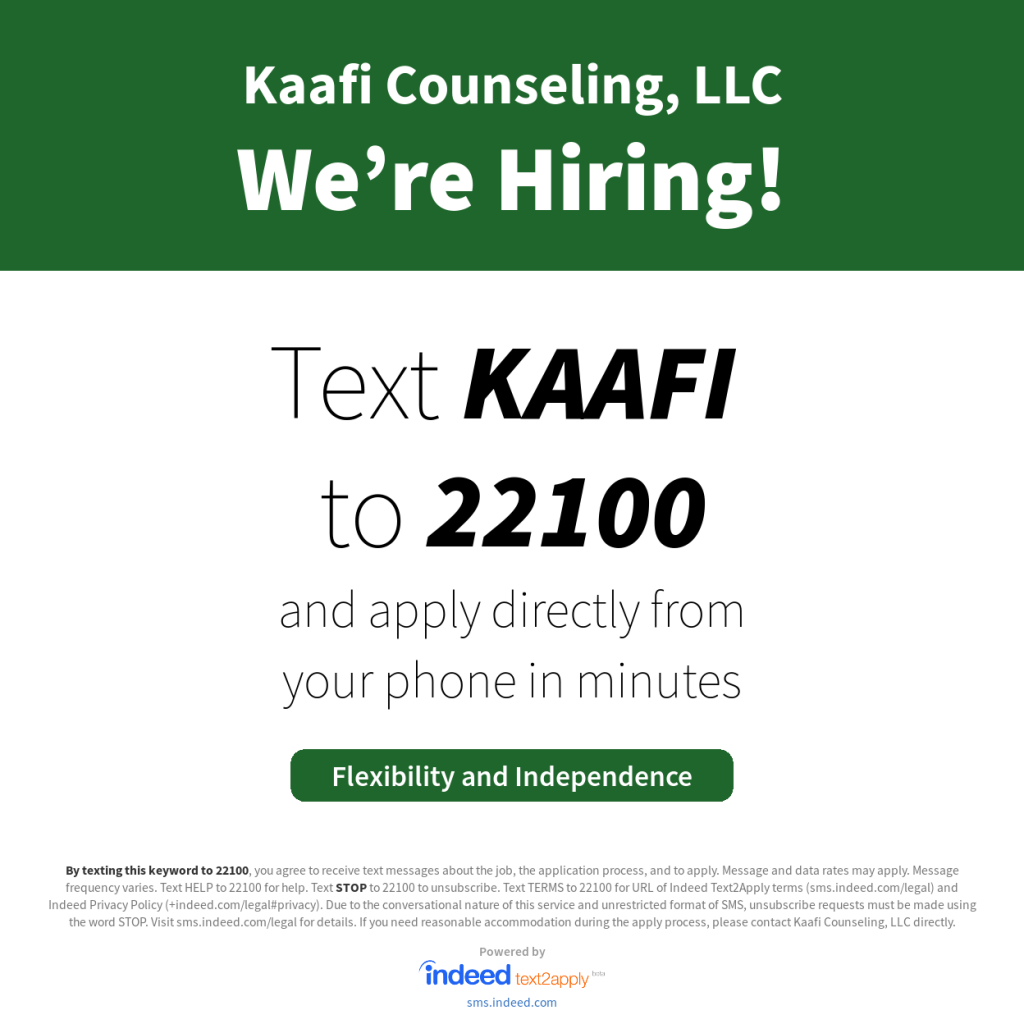 Convenient location in West Palm Beach, Florida